About the Prize
The Levchin prize honors major innovations in cryptography that have had a significant impact on the practice of cryptography and its use in real-world systems. Two awards are given every year, and each carries a cash prize of $10,000. The Levchin Prize was established in 2016 by a generous donation from Max Levchin, a long-term supporter of real-world cryptography.
The Levchin Prize Trophy
The Levchin Prize Trophy was created by designer, Ryan Rivas. The inspiration for the trophy is loosely based on the Jefferson Disk wheel cypher and a Cryptex, coined from the fictional writings of Dan Brown. The idea was to create an award that honors the practice of cryptography and the winners of the Levchin Prize. "We wanted to create an interactive object that itself was a hidden code waiting to be solved, using modern manufacturing practices, materials and design language".
The trophy, and all its components, are CNC machined from solid billet 7000 series aluminum. Each finished trophy takes roughly 6 hours on several different machines to fabricate. In the final step of the process, the finished parts are hard anodized to protect the surface finish.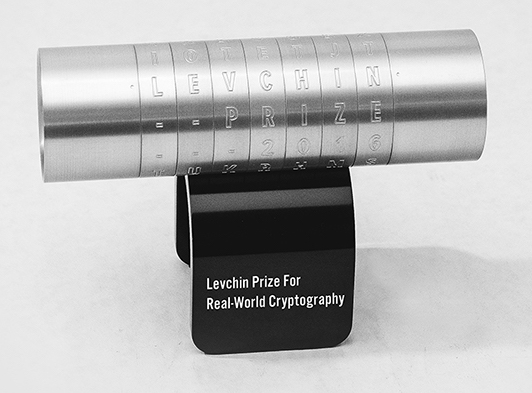 Nomination and elegibility
To submit a nomination please visit the nomination page. Prize winners will be selected by the award selection committee. Everyone is eligible. The only requirement is that award winners attend the award ceremony at the Real World Cryptography conference on the year when the award is given.
Submit a Nomination
2023
2022
2021
2020
2019
2018
2017
2016
Selection Committee
The Levchin prize awardees are selected annually by the real-world crypto steering committee. The current committee members are:
Dan Boneh, Stanford University
Helena Handschuh, Rambus
Nadia Heninger, UCSD
Brian LaMacchia, IACR
Anja Lehmann, University of Potsdam
Mariana Raykova, Google
Kazue Sako, NEC
Douglas Stebila, University of Waterloo
Nick Sullivan, Cloudflare
Peter Schwabe, Max Planck Institute